We just took over an incredible office space in the historic International Market Square (IMS).  We worked with talented Murphy & Co. Design to design a space that will be functional and fit the aesthetic of the building.
IMS was formerly home to the Northwestern Knitting Company Factory.  The company was founded in 1888 by George Munsing.  He invented a method to blend wool, silk, and cotton to make very comfortable underwear. The company received backing by Clinton Morrison and Charles Pillsbury, two local prominent flour milling businessmen. 'Munsingwear' eventually became the world's largest manufacturer of underwear.  Munsingwear also created the Original Penguin line, which remains very popular today.
In the early 20th century, Musingwear built 5 factory buildings on Glenwood Avenue.  The buildings housed thousands of factory workers.  While the basic structure of buildings are rather plain, there are significant architectural details, including a double-helix staircase,  projecting cornices, fretwork friezes, and fluted doric column.
In the early 1980's the Munsingwear underwear company closed, and the buildings were remodeled and listed on the National Register of Historic Places.  The renovation included a 5-story atrium, which was created by putting a glass roof over a courtyard which had once housed rail tracks that serviced the buildings.  The building now houses some of the most talented local design and architectural professionals as well as design showrooms (including Rauscher & Associates, LiLu Interiors, Holly Hunt, Hickory Chair, and Lee Jofa to name a few).
We are on the top floor and have view of the Twins Stadium and the Downtown Skyline.  The front of our office has large corner views of the sunlit atrium. The office features original brick walls and the original oak flooring.  We start office renovation / construction this month, and will post photos once complete.
We are excited to be part of this talented community!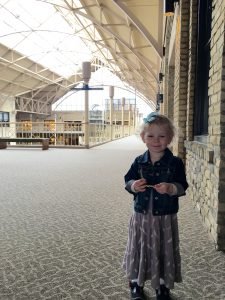 Our darling Eloise holding the keys to the new office.