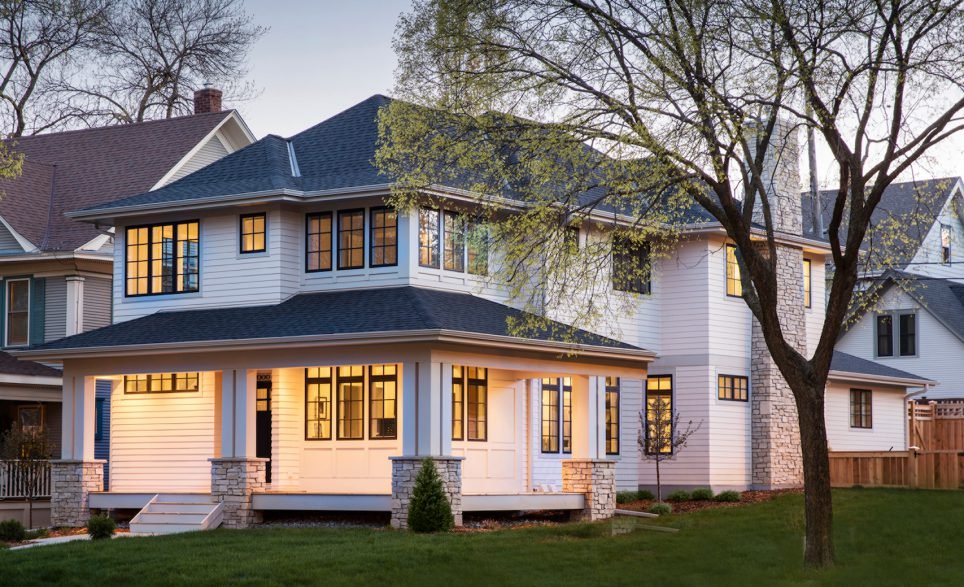 Lowry Hill Classic
This home sits on a corner lot in the historic Lowry Hill neighborhood. The neighborhood's location, just south of downtown Minneapolis is home to lovely Lake of the Isles and Kenwood Park.
It is no surprise that shortly after the neighborhood's establishment, it became a choice residential area for many of Minneapolis's wealthiest residents. Most of the Lowry Hill homes were built shortly after the neighborhood's establishment in the late 1800's.  For over 100 years, the neighborhood's aesthetic of abundant trees, generously spaced homes, broad lawns, attention to exterior detail and ample porches has remained constant.
There are very few new construction homes in this neighborhood. Building a new home in such a neighborhood presented the challenge of honoring the local architecture, while fulfilling the homeowner's wishes. A modern take on a classic, this home's broad porch, craftsman features and attention to detail maintain the integrity of the neighborhood's historic aesthetic, while also providing the fun, stylish homeowners the conveniences of modern design.
Upon entering, visitors are met with a surprisingly large, spacious, and light-filled interior. The entryway features a 2-story open staircase cased in paned windows, which create a dramatic visual effect. There is a large office off of the foyer. The office features several built in cabinets. The entryway leads into a dining space, living room, and kitchen, which all share a white enameled coffered ceiling. The shared space creates an excellent space for entertaining and effortless family time.  Sunlight streams in the living space through large, voguish black-paned windows. The dimension in the ceiling detail, large paned windows, and cool hues give the interior an ethereal vibe.
An open staircase leads to the second level, where there are several bedrooms, bathrooms, a laundry room, and a master suite. The comfortable master suite is fitted with a reading enclave, two walk-in closets, and a modern bath.
This home provides a young, growing family a contemporary urban oasis in the heart of a historic Minneapolis neighborhood.
Interior Design: Home Design by Annie
Photographer: Troy Thies Photography
---